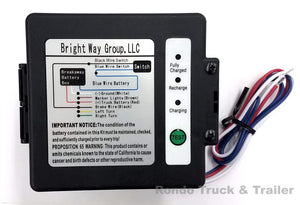 Part # 2382

Trailer Breakaway Kit w/Battery - Side Load

A working trailer breakaway system is required by state law!
Engages trailer brakes in the event of a trailer
disconnecting in transit.
Quickly check the battery level on the lid with the
LED indicator & test button.
Includes Bright Way brand battery, battery box w/charger,
switch, and wiring instructions.

Installation hardware not included!

This product may contain or emit chemicals known to the state of California to cause cancer and birth defects or other reproductive harm.